The weekend after finishing the language school I went to Otavalo with Yanapuma. First we visited the animal market. A lot of animals! Chicken are kept in big bags. Did not seem too animal friendly first. But the animals probably have a far better life than at the animal farms back home.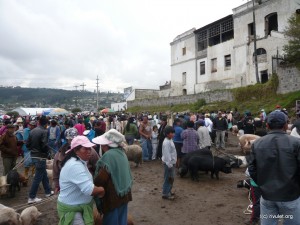 Aside from the animal market, there is a huge arts market on Saturdays. Really huge. I loved the intensive and colorful clothes and paintings. Could have strolled the stands for hours. Just for the beautiful colors. Good, that I am travelling with a 35 l backpack, so it is not a question whether to buy some stuff or not.
After the market we headed off for a hike to a waterfall. It was an interesting way, because we took a road through the real Ecuador, at least, that's what Vinicio said. So we passed little houses, where pigs were fastened with some rope alongside the road and a lot people washing their clothes in the river aside the street. Suddenly, we left the main road and headed into a beautiful valley and ended up at a nice waterfall. Well, on the way to the car I recognized for the first time, that it is kind of special to be a Gringo in South America as some young girls wanted a photo with me. Probably, I am getting famous ;-)
We stayed overnight at an indigenous community, where I learned a lot about the different uses of plants and herbs for different illnesses. And Antonio, the chief of the community showed us how they make their traditional shoes out of palm leaves. Really interesting. And always impressive to see how much old knowledge and art is still there. Tried guinea pig at the community, too. Tasty, but not as special as everybody was trying to tell me.
The day ended with a visit of the Laguna die Cuichocha, an active crater lake in which one can still observe occasional gas emissions. We took a boat trip on the lake, saw the two beautiful islands inside the lake and got a Canelazoafterward. And a nice dinner back in Quito. Thanks to Bruce for inviting us all! So unexpected. Great. Thanks to Vinicio for organizing the trip and being such a good guide on the weekend. And thanks to Anne Marie, Mindy, Vinicio, Niels, Guy, Russel, Bruce and for the great company on this weekend!
Greets, Michael