After Colonia I went to Montevideo. Arrived there late at night and took a cab to the flat of Giorgina and Martin, a sparring partner ;-) from the Karate-Dojo in Darmstadt. Where I got a very warm welcome. First time in seven months not staying in a hostel or hotel. Fantastic! I even got my own room, a very comfortable mattress and very cozy bed clothes. Hach. Sometimes you only recognize how much you miss some things once you have them again.
On Friday I met Lena once more. We had an awesome afternoon and evening together. Good talks and a lot of fun again. I won't forget the face of the waiter when Lena ordered a whiskey and a tea at 4am in the morning. Thanks Lena for the great time! And for borrowing me your sweater.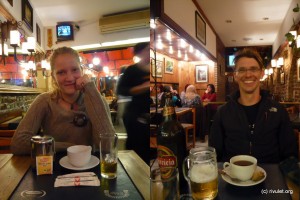 On day I strolled around in Montevideo. Went to the Ciudad Vieja (old city) first and walked back to the Erdmann flat. Trough some really really beautiful barrios. A lot of old colonial houses, some in grey, some colorful. Nice cafes, cool shops, and a lot of trees. A really green city!
Of course Giorgina and Martin would not let me go without trying Mate. I got the feeling, that you are not Uruguayan if you don't walk the streets with your Mate in your hand and your thermos under your arm :-) And I decided to bring a mate, a bombilla and a matera as souvenir. If you want a sip just drop in.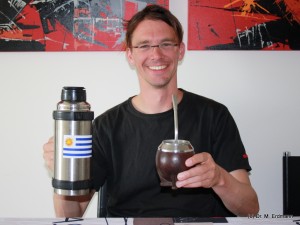 Summarizing, I got an exceptional(!) full service of Giorgina, Martin and the sweet 'boss' Lukas. After the first shock that there was a stranger around, the little boy was more than willing to great me with a smile whenever he saw me. And there are few things in life that are better than a smile and gleaming eyes of a child. Thanks Lukas! His parents have just been awesome, too. A lot of good and funny talks. Breakfast was ready whenever I got up. Delicious and warm(!) lunch and dinner was served every single day I stayed there. And I do love warm meals! On a sunny day Martin & Lukas went with me for a nice walk along the Rambla and the beachside of Montevideo. On rainy days I was served honey grappa. Delicious! And we went out to the movies. Watched Thor in 3D. My last 3D experience was some years back and I was really amazed what is possible nowadays. Great effects. And a sensational creation of fantasy worlds. Bloody marvelous. Definitely not the last time…
It was so nice with Giorgina, Martin & Lukas, that it actually was hard to leave. But I had a few days left and wanted to see the famous beaches of Uruguay, too. Thanks Giorgina and Martin for EVERYTHING! I felt home after a few seconds . Which is not very easy to achieve! Good for me, 'cause it is a very nice feeling, bad for you, because I will probably come back ;-)
After the beach I was allowed to come back and Martin went to one of the many 'meat temples' with me. Stuffed with enough meat for the next months I took the plane to Frankfurt.
Aloha
Michael