After days weeks of physical laziness I was ready for some sport. So I booked a full day kayaking tour around (and inside) Ao Thalane. It is a peninsular with huge karst rocks and mangroves along the open sea.
Crossing a few hundred meters at open sea we entered the karst-walled canyons. These rocks are huge! Wide and narrow channels form a complex labyrinth inside the peninsular. Passing through some small entrances, one suddenly gets into amazing lagoons. With bright sunlight from above and green covered limestone at all sides these are magical places.
After a good lunch and a rest at the base we headed off again to explore two caves. Low tide was approaching and the water level fell fast. The tidal range can be up to five(!) meters here. We were headed in the direction of the main land, thus facing a quite strong current. After some easy paddling in the morning the trip started to be a proper workout. Yeah!
Finally, we arrived at the first cave. And after some fight with the muddy entrance we were rewarded with a limestone cave with big stalactites and stalagmites. That is home to a lot of bats. Afterward we paddled through a passage that is only accessible at low tide. It is amazing how many beautiful hideaways nature has created in this region.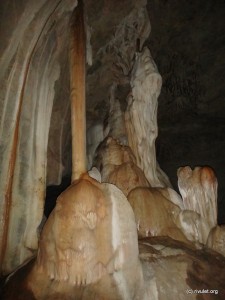 Back at the open sea we could watch some monkeys trying to catch crabs at the shore. And enjoy the beautiful scenery once again. All in perfect sunlight weather! Felt good to use my muscles again (at least the ones in the upper torso). Great day! Filled up the lost energy with some amazing food at one of Krabi's great night markets…
Happy greetings
Michael