After the heat in Penang it was great to arrive at the Cameron Highlands. Where the temperature is much more chilly. Not more than 25°C during the day and down to 16°C at night. Very refreshing!
There are two major things to do at Cameron Highlands: Jungle trekking (wherefore no guide is needed) and enjoying the beautiful scenery of the tea plantations. My first trip took me through a short jungle trek up to Mount Batu Brinchang, the highest peak in the Cameron Highlands. Where one has a nice view over the surrounding Titiwangsa Mountains, well… let's say hills ;-)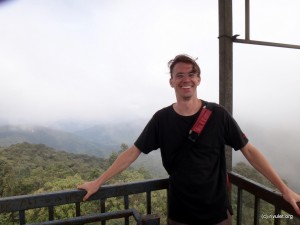 Up there, I met Catha and Richi, a very nice couple from Germany, who asked me, if I would like to join them to the BOH tea plantation. Which I did. On the way there, we explored the Mossy forest, an old cloud forest. Low level clouds support it with constant mist and moisture. Creating an unique environment for old fairy tale trees, moss, ferns and lichens.
Then we got the first glimpse of the tea plantation. I did not expect it to be so beautiful. But the tea plants in all different shades of green covering the rolling hills are a sight to behold! Of course we tried the final product. And it held up to my expectations. Luckily we got a pickup ride to Brinchang where we had some food at the market before we paid the Sam Poh Buddhist Temple a visit. Where it started to rain heavily. Again lucky, a pair of workers took us back in there car to Tanah Rata :-) After a nice dinner at my favorite restaurant Kumar together with Lucy & Sasha it was time to say Goodbye. Thanks Catha and Richi for taking me along and for the great day! Thanks Catha for lending me your umbrella! I would have been totally soaked without. Hope you are both back in Germany with a lot of great memories.
Aside from good long sleeps during the recreational fresh nights and chilling on the nice sofa of the Daniel's Lodge I went for a second hike in the jungle. Passed a village of  Orang Asli, the indigenous people of the Peninsular Malaysia. And ended up at another tea plantation. Where they offered me a green tea that they do import from China. Which I found quite ridiculous. Kind of being offered an Argentinian wine at a winery in France :-) They are also proud here, that they don't hand pick the tea leaves anymore. Even though it may be necessary economically, I would not put that into a commercial about my plantation. Opted for a black tea from the plantation together with a brownie and a scoop of vanilla ice cream and was happy to have a roof over my head as it started to rain heavily again. Took my umbrella this time, but did not need it as two nice guys from KL gave me a lift back.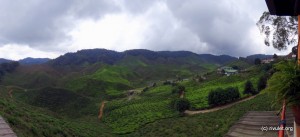 As Shannon was incidentally in Tanah Rata at the same time (thanks to Facebook :-) we met for a tea and dinner. It is always great to meet (nice) people again that you have met before. At least for me. Feels kind of meeting an old friend, 'cause you can skip all first questions (Who are you? How long are you traveling? Where have you been to? Whats next?). We had good talks again and it is entirely Shannons fault that I changed my plans and went to the Perhentian Island next. Shannon: Big thanks for both!
On my last day awesome Yasin from the Kumar restaurant showed me how to cut banana leafs for their delicious "Banana leaf sets". The restaurant was my favorite place in town. Delicious Malayan and Indian food. And exceptionally friendly staff, especially Yasin. Thanks Yasin!
Cheers
Michael