Kathmandu. Busy and chaotic capital of Nepal. In total I've been here much longer than expected, but had a good time. Actually, it started pretty good already. I don't know why (maybe because I was the only tall blond westerner in the queue), but I got upgraded to business class in Kuala Lumpur. And what can be better than being business class in Shangri-La ;-)

The same day I arrived, Georg did. Awesome! We had a good dinner, a few beers and a lot of good talks. Aside from choosing an agency for the Manaslu trek, we had a short look on Thamel and the Durbar square of Kathmandu the next days.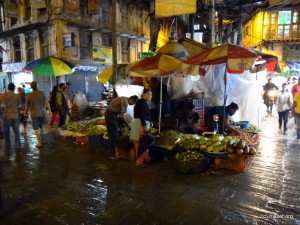 After the trek and the time in Pokhara we had a bit more time to explore Kathmandu and the Kathmandu valley. We went to Patan with it's impressive Durbar Square. A lot of temples and palaces. Personally, I enjoyed the trip into the backyards and the little side streets much more.
After a good lunch we went on to the Swayanbunath Temple. From high above the city we could both enjoy a good view over Kathmandu and the nice mixture between Hinduism and Buddhism at the hill.

The last day before Georg left, we went to Bodhnath. A special place. It is a big big stupa with a golden tower on it. Of course the watchful eyes of the Buddha are looking at you. We have been there at dawn and it was one of these spiritual places (like some churches) where one can feel the energy of the worshipers and prayers spoken there for ages. I really enjoy being at such places, took some time to absorb the vibe, and lit some butter lamps to enlighten the world.
We had a good farewell dinner and celebrated these awesome four weeks with a few drinks and a Shisha. Georg: Thanks for coming to Nepal! Thanks for joining the Manaslu trek! Thanks for motivating me to go to the Boderland Resort! But most of all: Big big thanks for all the really good talks about love & life. Deeply enjoyed your company, my friend! Sad that you left after four weeks already.
After Georg left, it was time to readjust to solo traveling again. I decided to stay a few days in Kathmandu for that and to plan the next stops on this trip. Sitting in a restaurant, eating my pizza I met Thomas, who teaches during the Kopan November course. We both don't know anymore how the topic came up. But he was raving so much about the course, that I spontaneously signed up. And was lucky, 'cause I was accepted after a few days on the waiting list.
It would have been quite tight to fit in another hike until the start of the course and as I was a bit sick, I decided to just stay in Kathmandu  to relax and recover. Was very good in the end, 'cause I met a lot of nice people, recharged my batteries and was told by a lot of trekkers, that the weather had been quite bad (so I just missed some lousy weather and bad views :-) Last great tip from Georg was to have a look at the "Garden of Dreams". Which I did. And found a hidden tranquil gem in the otherwise busy Kathmandu.
Thanks go out to:
Sue & Volker for two great evenings with good food and good talks.
Yaiza for nice breakfast and dinners.
Roza for being such a fun person to hang out with. For taking me to Pashupatinath, which was very interesting. And for your hard fight in winning the laziness price (sorry, but you lost). Don't forget: We are made for heaven ;-)

Ram from Outdoor Himalayan Treks for just being there, whenever I had a question. Especially while being sick it was a comforting thought, that you would have been just a few meters away. Dhanybhad!
Off I am, see you all in four weeks!
Michael