As already mentioned in the post about Bogotá I was in need for some down time to relax and charge my batteries. Luckily Claudia agreed on some change of the itinerary. Thanks Claudi! The trip to the Ciudad Perdida was already relaxing but can you get enough time to relax? I would say "No" :-)
Thus, we headed into the Tayrona National Park. First time for me at the Caribbean Sea. And folks: I loved it! The park is basically a mix of sandy beaches with warm warm water and treks through the rain-forest that follows the palm trees on the shores. We spent the first night in Castilletes, a camp site located on a 1.5 long stretch of beach. We got a tent directly at the beach. Workout at the beach during sunset. Jogging along the shore, feet in the crushing waves. (@DrillInstructor: Three laps,just the chin-ups needed to be skipped. Remember it?). Diving into the warm ocean afterward. Splendid! Totally recommended!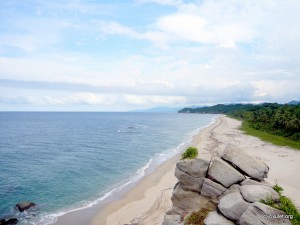 At dinner, we met Milena and Walter, the only other people that were around. Awesome couple! A great evening. More on this topic in the post from Medellín. Afterward I was laying on the beach for hours. As Claudia already went to bed, I had the whole stretch for me alone. Looking up to the moon and the stars I heard the waves crushing onto the coast. Thinking at the beloved ones. Totally in unison with nature. Best time so far on the trip! Pure joy and happiness! Again: Far beyond words.
@NTE: Wish you would have been here.
The hike on the next day went up and down the shore, some kilometers at the beach, some trough the rain-forest. A lot of lizards on the trail. Have seen green ones before but never the sparkling blue ones that live here. Beautiful! Sorry, they have been far too fast for a photo. And big blue butterflies like on the trip to Ciudad Perdida. Took a long break at La Piscina, one of the lovely beaches.
Want to join? :-)
After some further walking, we reached Cabo San Juan de la Guía, where we had been lucky and got hammocks high atop at the Mirador. After a descent lightning in the evening there was an awesome sunrise the next morning. Instead of hiking back to the road, we decided to be lazy, spent the day at beach and took a boat back to Taganga. Life could be worse :-)
Funny story: There is a checkpoint at the entrance to the park. After checking Claudia's bag the two policemen gave us a ride on their truck to Castilletes. On the way back our boat was stopped by the coast guard as there were too many people on it. After some discussion with the crew, they followed us all the way back to Taganga. So we basically got escorted into and out of the park. Did anybody say that Colombia was unsafe?
Best wishes to all my readers from a totally relaxed and happy
Michael