Never thought that, but yes, Taganga felt like home for the last two weeks. I am still adapting to the fact, that there is no "home" for me in the upcoming year. Nothing to return to after a hike to get some clean clothes, a hot shower and to relax at the favorite spot on the sofa. Sometimes, this is a very uncomfortable feeling, especially when staying at a not so nice hostel.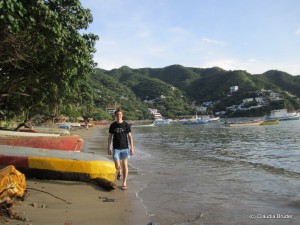 However, we came two Taganga three times. First time before the trek to the Ciudad Perdida, second time after the trek, and the third time after the trip to the Tayrona National Park. Every time, we stayed in the Casa de Felipe. A beautiful hostel! Very very friendly staff. Just a really relaxed place to rest, either in the nice garden or in one of the hammocks high atop on the patio, where you have a beautiful view over the town and the sea. Especially nice in the evening to watch the sunset. Second and third time felt like coming home. Staff was greeting us with a friendly smile and a warm welcome. So nice! Thanks to everybody at Casa de Felipe! If you ever go to Taganga, stay there! And try the delicious Filet Mignon.
Taganga itself is a small town and due to that, it felt familiar already at the second stay. We knew all the nice places to go, where to get a good dinner and found Café Bonsai, a lovely spot to escape the busy street at the beach. A special Thanks goes to Carlos and Antonio, the guides from the Trip to the Lost City. They both live in Taganga, and we basically passed by their house every time we went to town. It was so nice to have a chat with them or a beer (or two ;-) in the evening down at the beach. Thank you guys for letting me feel "at home" in Taganga!