After all the time of hiking an staying in little villages it felt surprisingly good to be in a big city. I really enjoyed the first well made Cappuccino for a long time. And spend quite some time sitting in little cafes, having a coffee, frozen cappuccino, a cake or a toast. Mhmmm.
Got a very warm welcome from Ines, who I met down in Ushuaia. She took me out on Saturday and showed my some of her favorite pubs, bars and places in Buenos Aires. We also went to Puerto Madero, one of the newer barrios of Buenos Aires with a nice flair at night. Thanks Ines for this great welcome to your city and the very nice evening! Too bad, that I responded to late for a second meeting. We will have to postpone it a few days ;-) Greets to Luciano, too!
Besides sitting in cafes I strolled around the city: Downtown with a lot of shops; Palermo with the botanical garden; the chic Relocta with it's famous cemetery; La Boca, an old harbor neighborhood, nowadays totally renovated. But most time a spent in San Telmo, where my hostels were located (yes, I changed two times until I found the great Asterion house). It was also in this nice neighborhood where I stumbled over a dance event on Sunday. A group of musicians were playing Tango and Salsa. And people from young to old where just dancing on the street. So many smiles and good vibes. Awesome! A great evening including a delicious Arabic dinner at the restaurant Habibi.
[flashvideo file=http://mb.rivulet.org/journal/wp-content/uploads/2011/05/buenos-aires.flv /]
At the hostel I met Lena, a girl from Germany. Unfortunately she had to leave the same day… however, we spent a great morning and afternoon together before she took the ferry to Montevideo. Thanks Lena for all the grins, the laughter, and the funny conversations we had. Have not laughed so much for quite a while! Awesome, that you have had more than five friendly minutes this day ;-)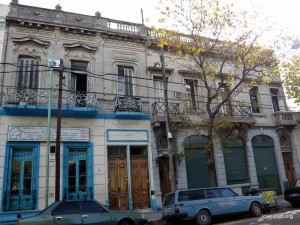 The hostel was quite a lucky pull. 'Cause Francesco from Italy, who stayed there too, invited me to join his group of Tango students to a classical Milonga. So I got a great impression of the Tango culture of the city. Thanks Francesco for inviting me to this evening and for all your good tips about Asia. Much appreciated!
Of course I could not leave Buenos Aires without visiting one of the Tango shows. Luckily, Martin from Montevideo recommended me a place. So I went to the Centro Cultural Borges and watched "Bs As Pasión de Tango". What a show! This kind of Tango is more than a dance. It's both a hard sport and a love story. Thanks Martin for the tip!
With a joyful heart I left Buenos Aires.
Hope you are all doing great, too.
Greets, Michael