The flight was booked, so it was time to leave for the second part of this trip… Asia, with start in Bangkok. After the amazingly great five weeks back home I expected that it would not be too easy to leave again but did not expect that it would hit me so hard. The first days in Bangkok have not been fun at all. The city was overwhelming. And I felt totally alone, lonesome, and sad.
I actually felt so sad and lacking in motivation that I could not even decide where to go next (aside from wondering if I should take the next flight back home). So I spent a whole week in the big city… which has some nice parts, too: A lot of impressive temples, palaces, markets, and some little hideaways. The Joy Luck Club (8 Pra Sumen Road) was one of these little gems, a quiet and cozy hideaway in the bustling city with great food and very very friendly stuff. Thanks! Got in sad, got out in better mood. Went there several times :-)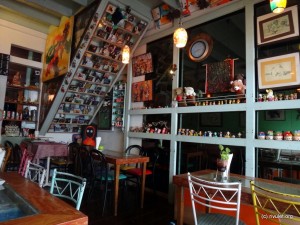 Thanks for every supportive mail and chat in this week. Soo much appreciated!
Finally, I decided to head to Kanchanaburi, and off I went on Friday.
Greets
Michael