Cusco – Capital of the Inka empire. 3416 m.a.s.l. high in the Andes. Warm up for Machu Picchu. And some relaxation afterwards.
We stayed in the funky and very cozy Casa de la Gringa, strolled the city's small alleys (heavily breathing), admired Cusco's impressive buildings and enjoyed life in cozy little cafés.
I especially enjoyed the atmosphere in San Blas, a very atmospheric and picturesque neighborhood of Cusco with many pedestrian only streets, good restaurants, and a good vibe.

Then, we were ready for one of the highlights of the trip: Machu Picchu, the Inka citadel at 2430 m.a.s.l right in the heart of a tropical mountain forest.
I've been there before, but it was a fantastic experience to be there again. Especially as I was here with my dad this time! We were extremely fortunate: Last time I got the possibility to climb Wayna Picchu, this time, although being very late with our booking, we managed to get tickets for the Machu Picchu Mountain. Up we went! All the way up in fog and clouds. I started to get a little sad, as I assumed, that my dad would probably not get one of the majestic views of Machu Picchu and that the climb would be wasted.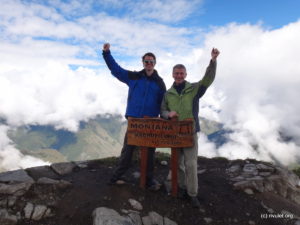 But apparently, my good link to Petrus is still intact or Emily asked the rain-dragons for help (thanks, little angle!). Anyhow, after we waited for half an our at the top, the clouds were blown away and Machu Picchu was lying beneath us. In all it's magic!
A feeling of deep gratitude emerged from my heart. For being allowed to see this place again. And that life granted me the opportunity to be here together with my dad. That I could show him this magical place in all it's beauty. That he was able to see it in bright sunlight, too.
Writing this down… tears of joy are running down my cheeks. Thanks dad for being such an awesome dad all my life, for your tons of support, help, and your unlimited and unconditional love! I can't put all my gratitude in words, but it's there, deep within my heart.
Blessed greetings from two magical places
Michael