Wow! As you all may know, I am not the biggest fan of cities but more into nature. However, the days I spent in Medellín are definitely among the best days of this trip. And that is solely the merit of Milena and Walter, the couple we have met in the Tayrona National Park.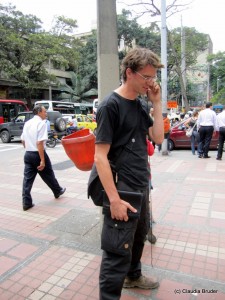 They have just been awesome! On a very short notice (just a few hours) they managed to show us their home city for two days. So we did not get a standard touristic trip, but instead went to some of the places Milena and Walter like a lot.
On the first day they picked us up with the car and we drove up the Cerro Nutibara, where one has a beautiful view over the city. Then they showed us the Pueblito Paisa, a replica of a rural Colombian Village. Very nice, especially in the evening. Afterward, we went to a modern counterpart, the Plaza Major, a very nice place. I especially enjoyed the next stop: the area around the old museum of modern arts. Lots of relaxed people hanging out there and enjoying the evening. In a lovely bar we've got introduced to Refajo, which is a fantastic drink consisting of beer, Columbiana, slices of oranges, and a shot of Vodka. Very very good! And dangerous, 'cause you don't feel the alcohol. Luckily, I did not have to drive, thanks to Walter for being the chauffeur. For dinner Milena and Walter took us out to a fancy restaurant with great food. Mmmh! One of the best dinners on this trip, not to mention the fun we had. After showing us some of his artwork back at his home, where we also could make the reservation for the coffee farm, they drove us back to our hotel! What a service! Unbelievable.
We met the next day in the morning and went directly to the Explora Museum. A lot funny physic games outside and an aquarium and vivarium inside. Great! Afterward we took the Metrocable to a nature park far up on the hills. Strange feeling, because sitting in a cable car definitely fells like jumping into the skis and skiing down the hill. But there was no snow, but the housings of people :-) Turning from wealthy to poor, and then the cable car went for hours over a beautiful forest. Went for a short walk in the nature park and had a typical Colombian lunch. A lot of meat!
The wonderful day ended in Zona Rosa, the party area of Medellín. We began with a very tasty Long Island cocktail in the first bar and in a second bar with great music Walter introduced us to a good friend of him: Russian Cocaine. Vodka with a lemon and coffee. Well the friend had some brothers and sisters too… Shame on you Walter, as I was the one sitting on a bus to the Zona Cafetera the next day ;-) It was a fantastic evening with some awesome conversations ranging from fun to love and the meaning o life. So great! I am still looking back two these two days with a smile on my face and joy in my heart. Grateful for meeting such a great couple.
Milena and Walter: You have just been awesome! Thanks for your amazing hospitality and for just being such interesting and lovely persons! If you ever come to Germany, drop me a note! If not traveling, I will be waiting for you with a big smile on my face and ARMS WIDE OPEN!
Big hugs, Michael