Thanks Shannon for raving about the Perhentians so much! It was a fantastic decision to change my itinerary and go there. The Perhentians are two beautiful tropical islands: Great beaches, palms, jungle. I stayed on Perhentian Kecil, the smaller of the two island. Which has a very relaxed vibe and a lot of nice and funny people to meet there.
However, the best experience during my stay on the island was the one day snorkeling trip I took. Far beyond any expectations I've had. It was MIND BLOWING! I have never seen such an underwater beauty before. The islands are surrounded by a lot of coral reefs. Which are habitat for an abundance of fishes. Basically everything I have ever seen in a documentary was live in front of my own eyes: Corals in all colors. Sea anemones with clownfish defending them from too curious looks. Shoals of small fish which were just surrounding me. So many different kind of big fish. In all forms and colors one could imagine. Not afraid at all so I could get really close.
At a certain spot between the islands we could swim with turtles. Big sea turtles. Floating right beside one while she is coming up for air and then following her down was terrific. And at Shark Point I saw, guess what? A shark. I would say, it was 1.5 meters long. Beautiful creatures and their movements are so different from other fish. Much more majestic. This was again one of these magic moments of this trip that are beyond words. However, as I took no pictures but just enjoyed the overwhelming beauty, you have to live with it. Just go there and see it yourself, you will not regret it!
Aside from this awesome day I had a nice relaxed time on the island. Doing not too much but sleeping, eating, chatting with people and some sun bathing (which will probably never get my favorite, 'cause it's boooring.). Thanks Aurelija for all the guide books! Patricia showed me a few nice places to hang out and get some good food. And together with Jarno we had a great party night at down at the beach. Jarno, you are just a fun person! Thanks for the good vibes you've spread! And thanks for teaching me how to dance ;-) Enjoy your trip and stay the way you are!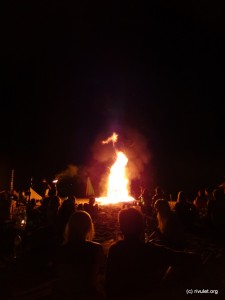 Don't know how one can catch a flu at 35°C, but I managed. Thus, I did not really feel like hiking in the jungle. So I decided not to go to Taman Negara but instead followed Patricia a bit on her way south. Fist stop was Kuala Terengganu. Which was totally shut down due to Ramadan. Strange enough, the hostel was fully booked after the first night, so we were kind of forced to move on. Which was pretty good, 'cause Cherating, the next stop, was much nicer. A charming little village at the coast. With a long long beach and few people. Got a very good book at a local book exchange. Together with a very nice bar at the beach and interesting talks with Patricia this was more than enough for some great days (@DrillInstructor: Yet again a little workout at the beach. Three sets, like you've taught me! Thanks for that, btw!).
One evening we went for a trip to the stretch of beach, where turtles arrive to lay there eggs. An especially great experience as I was just swimming with one two days before. And we were allowed to release baby turtles. A very moving moment to give two of them all my best wishes for their long and dangerous way. One in a thousand will survive. Had some tears in my eyes. GO GO GO little baby turtles!
Thanks Pati for your great company on the Perhentians and the following days! For showing me all the cozy places on the island. For good talks, the fun, and for getting me very(!) curious about diving. Wish you an abundance of marine life and a lot of fun while becoming a Dive Master! Cheers!
Colorful underwater greetings
Michael